About Lakshmi Narain College of Technology, LNCT Bhopal
Lakshmi Narain College of Technology, LNCT Bhopal has the approval of AICTE India. Moreover, this college has an affiliation with R GPV, Bhopal, Madhya Pradesh. LNCT is Central India's No. 1 college. In M.P., it is First in Gate score and also in the Academic score. Furthermore, it is the 1st Self-Financed Institute in M.P. to start M. Tech. Programs. Generally, it is 1st Self-Financed Institute of M.P. started in 1993-94 with branches: B.E.- CSE, IT, EC, EX, EE, ME, EI, Chemical & Civil. Altogether, it is 1st in many things. Apart from that, it has great infrastructure. It is spread over 50+ acres in a lush green environment. 
The vision of LNCT Bhopal is to be a premier institute. With engineering education and research converging to produce engineers as responsible citizens. Moreover, they have been improving themselves continually in the teaching-learning process. Furthermore, they undertake interdisciplinary research and development by engaging the faculty and students in curricular, co-curricular, and industry collaborated projects towards problem-solving. Not to mention, they enhance the proportion of skilled based courses beyond the curriculum to create more employable graduates. In addition, their educational objective includes understanding the applications of science and humanities, as well as, basic introductory engineering courses.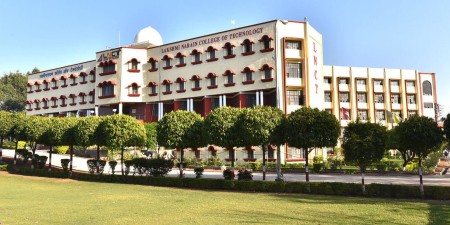 ---
Lakshmi Narain College of Technology, LNCT Bhopal
Admissions
The Lakshmi Narain College of Technology, LNCT Bhopal Admissions depend on the course type and level a candidate wishes to apply for. Below are some examples of eligibility criteria.
Eligibility Criteria for Admission for BE:
Candidate must score 45% in Physics, Maths, and Chemistry/ Biotechnology/ Biology (40% for OBC/ SC/ ST MP domicile).

For lateral entry, a candidate must have pass result in the Diploma examination in appropriate branch of Engineering/ Technology from an Institution recognized by AICTE with minimum marks of 45%. For SC, ST, and OBC shall be 40%.
Eligibility Criteria for Admission for ME/ MTech:
A candidate seeking admission to M.E./ M.Tech. courses should be a Graduate in Engg/ Technology. However, the candidate must have at least 50% marks.
Eligibility Criteria for Admission for B/ D Pharmacy:
Candidate must have passing result in the 10+2 Examination. The examination must be from Board of Secondary Education Madhya Pradesh Bhopal. Although, equivalent examination from recognized Board/ University/ Institution with Physics and Chemistry as compulsory subjects along with one of the Mathematics/ Biotechnology/ BiologySubject is considerable. 
Eligibility Criteria for Admission for MBA:
The candidate must at least score 50% marks and 45% marks in case of SC/ ST/ OBC.

Minimum three years duration of Bachelor's Degree after passing Higher Secondary (10+2) examination of (10+2) system or equivalent.
Eligibility Criteria for Admission for MCA:
The candidate should be a graduate with at least 50% marks and 45% marks in case




of to SC/ ST/ OBC. Along with a Bachelor's Degree of minimum 3 years duration with Mathematics at (10+2) level or at Graduate level. 
---
LNCT Bhopal Facilities
Library:
At LNCT Bhopal, The Central Library occupies a place of pride. Also, it is an essential component for the institute's outstanding education mission. It includes a digital library, internet lab, audio-visual center, etc.
Health Care:
The Institute provides health care to students and staff. It provides excellent medical care to all. Also, vaccinations and yearly checks ups are done at this facility.
Hostel:
The college has one boy's and one girl's hostel. Both the hostels are on the campus. The hostel provides facilities like canteen, public phone, hot bath water, etc. Above all, there is T.V. available in the recreation room.
---
LNCT Bhopal Contact Details
Address: LNCT Campus, Kalchuri Nagar, Raisen Road, Bhopal, Madhya Pradesh (M.P.)- 462021
Telephone: 0755-3958300-5/+91- 0755-3958350/0755-3958355/0755-3958356
Email: info@Lnct.ac.in, admission@Lnct.ac.in